Posts by :
August 14th, 2013

"Scream Icon" Claim Falls on Deaf Ears
by Stephen M. Stern, executive editor

What began as a statement of religious hypocrisy ended in screaming silence. Life met art when Green Day performed their song, "East Jesus Nowhere," live against a video backdrop that included Dereck Seltzer's "Scream Icon" during stops on their 2009 tour.

In an effort to capture the meaning of "East Jesus Nowhere," Green Day's videographer included a photograph he took of a wall filled with graffiti at the corner of Sunset and Gardner Avenue in Los Angeles. The wall had an image of the "Scream Icon," which he modified by painting a large red cross over the face and painting black streaks down the right side of the face. With the "Scream Icon" photograph as the focal point, the videographer filmed the wall over several days, capturing more graffiti and tagging on the wall, and then created an accelerated version of the video, which played during the punk band's live performance of the song.

Seltzer filed a lawsuit for copyright infringement and violations under the Lanham Act, which protects trademarks. Billie Joe Armstrong and the band argued that the "Scream Icon" had been transformed and was protected under the fair use exception to copyright infringement.

The U.S. Ninth Circuit Court of Appeals stated that, "The fair use doctrine 'permits and requires courts to avoid rigid application of the copyright statute when, on occasion, it would stifle the very creativity which that law is designed to foster,'" citing Campbell v. Acuff-Rose Music, Inc. in 1994 (510 U.S. 569, 577). The court reiterated that fair use of a copyrighted work is not an infringement of copyright and provided the four factors in Title 17, Section 170 of the U.S. Code to consider:
The purpose and character of the use, including whether such use is of a commercial nature or is for nonprofit educational purposes.
The nature of the copyrighted work.
The amount and substantiality of the portion used in relation to the copyrighted work as a whole.
The effect of the use on the potential market for or value of the copyrighted work.
Citing the U.S. Supreme Court, the Ninth Circuit stated that the central purpose of the first factor is to see ". . . [W]hether and to what extent the new work is transformative. Works of this type lie at the heart of the fair use doctrine's guarantee of breathing space within the confines of copyright, and the more 'transformative' the new work, the less will be the significance of other factors."
Seltzer admitted that the "Scream Icon" addressed "themes of youth culture, skateboard culture, (and) insider/outsider culture." Whereas, Green Day argued that the image was used as raw matter to create something new – specifically, the addition of the painted cross surrounded by images of other religious iconography to convey the new meaning of hypocrisy of religion in the song. Therefore, the commercial use under the first factor was also determined to be incidental because the image was not used to sell show tickets, CDs and/or merchandise.
Under the second factor, the court determined that while Seltzer's art merited stronger copyright protection because of its creativity, it had also been widely published and his artistic expression had already occurred.
The third factor focused on the quantitative and qualitative amount of the original work used by Green Day, which the court found to be substantial. However, the court also noted that the entire image was necessary to achieve the new expression Green Day sought.
The fourth factor also favored Green Day, mostly based on Seltzer's testimony that the value of his work had not changed, nor had anyone told him he or she would not buy his work because of Green Day's video. Also quite persuasive was the fact that the modified "Scream Icon" was not placed on CDs and merchandise and other promotional material for sale, and was only used in one song during a three-hour touring show.
The court stated that The Lanham Act (U.S. Code Title 15, Section 1125) extends liability to any person who "uses in commerce any word, term, name, symbol, or device . . . which is likely to cause confusion, or to cause mistake, or to deceive as to the affiliation, connection or association of such person with another person . . . ." However, the district court had already concluded that Seltzer had failed to provide sufficient evidence of establishing the "Scream Icon" as a trademark in the sale of his goods or services.
On both copyright and trademark claims, Seltzer's "Scream Icon" claims fell on deaf ears and lost on Green Day's motion for summary judgment. The only saving grace was that the Ninth Circuit Court of Appeals ruled that Seltzer's lawsuit wasn't frivolous, removing the burden of paying for Green Day's attorney's fees. After paying for his attorney's fees and costs, though, Seltzer just may feel like an "American Idiot".
Stephen Stern, a three-chord groovemeister, specializes in estate law, intellectual property, entertainment law, bankruptcy and contracts. He provides a free consultation to California residents. For more information, visit www.sternlegalcounsel.com.
July 16th, 2013
The benefits of trademarking your band name
by Stephen M. Stern, Esq., executive editor
Many bands set out to leave their mark, but very few actually do. Not because they lack the star power or magical riffs or lyrical connection. It's because they fail to register their band name with the U.S. Trademark and Patent Office.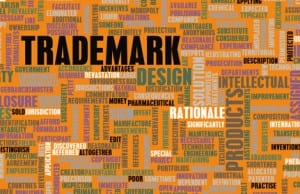 Considering the thousands of hours writing, rehearsing, performing, marketing and promoting your band, the few hours and C-notes it takes to electronically register is a drop in the proverbial bucket.
Like any other brand names trying to distinguish themselves, bands can register their names with the USPTO, which affords certain legal protections. Chief among these protections is to prevent other people from using your name to sell products and merchandise, and profiting from that use.
Your exclusive right
Trademark law protects a trademark owner's exclusive right to use a trademark when use of the mark by another would likely cause consumer confusion as to the source or origin of goods. A trademark is a word, phrase, symbol or design — or a combination thereof — which identifies and distinguishes the source of the goods of one party from those of others.
To establish a violation of the Lanham Act,for either a registered mark under 15 U.S.C. § 1114, or an unregistered mark under 15 U.S. § 1125(a), the plaintiff must demonstrate that (1) it has a valid and legally protectable mark; (2) it owns the mark; and (3) the defendant's use of the mark to identify goods or services causes a likelihood of confusion."
If the trademark is registered before someone infringes on your name, then you are eligible to receive a much greater sum of money in damages plus your attorney fees and costs. That's if the other party fails to cease and desist after receipt of your written demand letter.
Other benefits from trademarking your band name
The USPTO "Protecting Your Trademark" fact sheet states that other registration benefits include:
A legal presumption of your ownership of the mark and your exclusive right to use the mark nationwide on or in connection with the goods/services listed in the registration;
Public notice of your claim of ownership of the mark;
Listing in the USPTO's online databases;
The ability to record the U.S. registration with the U.S. Customs and Border Protection Service to prevent importation of infringing foreign goods;
The right to use the federal registration symbol ®;
The ability to bring an action concerning the mark in federal court; and
The use of the U.S. registration as a basis to obtain registration in foreign countries.
The do-it-yourself cost is around $300, but the value in damages, coupled with the potential value of your band name on merchandise is miniscule by comparison. Prior to applying for the trademark, conduct a search to see if that band name is already in use, or a current application is pending. One search method is the Trademark Electronic Search System.
Another search method is paying a third party with a massive database system to do a wide-scope review of your band name. In some cases, the band name may already be in use under common law (just used in commerce) or registered in a particular state. In this scenario, you won't be able to prevent use of that band name in a designated city or county, or within a certain state, but you could still claim federal rights.
Additionally, if your band name is also a design or a logo of some sort, you can register it as a copyright by the U.S. Copyright Office (http://www.copyright.gov), which will protect another type of legal protection against infringement. The basic registration fee is $65, and provides an array of protection and statutory damages should someone infringe your copyright.
The performances and groupies come and go, but the work you create is the legacy that remains, including the name of your band.
Stephen Stern, a three-chord groovemeister, specializes in estate law, intellectual property, entertainment law, bankruptcy and contracts. He provides a free consultation to California residents. For more information, visit www.sternlegalcounsel.com.
June 14th, 2013
How to prevent bottom-feeders from getting your prized strat
by Stephen Stern, executive editor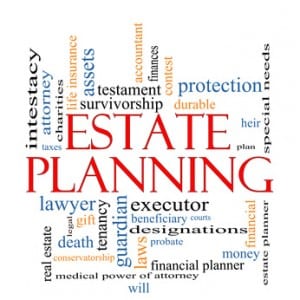 After musicians play their last riff, most hope to find nirvana. But the family and other people left in their wake may end up in dystopia, where  a bloodfest likely ensues over the musicians' gear, publishing and royalty rights.
Add to that fiery pit the correlation between the value of the deceased's estate and the number of new children and cousins who seek their fair share of the estate.
To make sure your early model strat isn't gifted to the biggest shat, create an estate plan to include, at minimum, the basics: a will, a trust and a healthcare directive.
The  will. This is the legal declaration used to distribute the assets of one's  estate after death. It also serves to name the executor (person to  administer the estate), as well as provide information as to guardians for  children, if necessary. A "pour-over" feature can be added to distribute  part or all of one's assets into a trust.
The  trust. Whereas the will  provides for distribution of assets once the estate has been administered,  the trust provides an array of tax advantages and strategies — creative  gifting of assets over time for a wide array of events or activities — and  can help you avoid or minimize the cost and time associated with probate.  Moreover, the trust can be revocable in that the creator (trustor) can  change the beneficiaries and the types of assets at any time prior to  incapacity or death. Irrevocable trusts also provide tax advantages and  benefits, providing ownership of selected assets to named beneficiaries,  but for the trustor's use during his or her lifetime. Another major  benefit of a trust is the asset protection it provides through spendthrift  trust provisions. This is of particular importance when judgment creditors  want to take the beneficiary's share of the trust, or when the beneficiary  receives governmental assistance based on his or her financial  status.
Power  of attorney for property. Several  different types of powers of attorney cover personal or real property, or  personal services, health and medical decisions. They can be limited in  scope and duration of time. These are important powers when a person is  incapacitated and unable to make important financial and health decisions.
Advanced health-care  directives. A living will ("advance directive") permits a patient to  declare his or her wishes regarding life-sustaining treatments in the  event of three conditions:
A terminal illness or an incurable or irreversible condition.
Unconsciousness, when it is unlikely that consciousness could be regained (often referred to as a permanent coma).
Advanced dementia, Alzheimer's disease or other illness resulting in substantial and irreversible cognitive loss.
According to state law, upon one's death, there are several steps that need to be taken. The first step is called "probate." It means determining the validity of a will. Based on the will, an executor is named to administer the estate, either informally of formally, depending on the type and nature and value of the assets in decedent's estate.
Informal probate.  In  California, the estate can be treated as informal if the estate assets are  less than $150,000. This reduces the cost of probate and does not require court  oversight.
Formal  probate.  This requires numerous steps, including approving the executor, noticing  the beneficiaries, obtaining appraisals, providing an accounting, court  approvals and much more. The executor and attorney receive compensation  based on the percentage value of the estate, and the probate can take six  months to two years, depending on its complexity and whether there is a dispute between and among beneficiaries.
Non-probate  transfers. There  are several ways to hold assets that avoid probate. They include trusts,  joint banking accounts (paid-on-death accounts), trusts, retirement and  life insurance benefits that go to designated beneficiaries, spousal  property petitions, community property with right of survivorship and  others.
Intestate  succession. Under  California law, if a person dies without a will and a trust, the state  will oversee his or her estate through the laws of intestate succession.  This provides that the assets go to the next living kin of the deceased. And  if the next of kin can't be found, it all goes to the state of California,  including your '48 gold-leafed strat.
Protect your assets by doing some estate planning if you want to remembered for radical riffs rather than the ridiculous rifts between friends and family members,.
Stephen Stern, a three-chord groovemeister, specializes in estate law, intellectual property, entertainment law, bankruptcy and contracts. He provides a free consultation to California residents. For more information, visit www.sternlegalcounsel.com.
May 9th, 2013
The voice behind 'The Voice'
by Stephen Stern, Executive Editor
Kara Britz has been turning heads for years, but given the opportunity, she could as easily turn the judges chairs. But as a voice behind "The Voice," Britz's vocals can only be used to bring stardom to others on NBC's smash- hit reality show.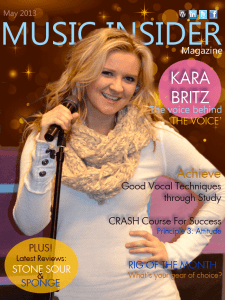 Such irony, however, gives way to the ecstasy this 27-year-old vocal bombshell feels when she gets to add color, depth, and breadth to another vocalist's performance, whether it's for Joe Blow or Joe Cocker.
"I am so happy backing up singers," Britz explains. "They stand on stage, so vulnerable in the public eye. They know I have their back. I love it more than I thought I ever would."
That's despite the grueling 12- to 18-hour days learning hundreds of songs in various keys and parts, technical rehearsals, dress rehearsals, video shoots and the live performances.
"Everything is live; nothing is fabricated or lip-synched on "'The Voice,'" Britz adds. "We do tracks on iTunes and for the live shows, and it's all true to what you hear."
Britz said she shares the stage with some of the world's best background vocalists, including Stevie Mackey, Denise Janae and Denosh Bennett.  "Background vocalists are a tight community, and the people you sing with are like family  — we take care of one another," she said. "That means filling the sound when the other's voice may be tired or raw."
They, in turn, are backed up by one of the best bands ever assembled for a TV show, led by the highly-acclaimed and sought- after musical director, Paul Mirkovich (P!NK, Cher, Janet Jackson) and the rock- solid rhythm section of Sasha Kristov (bass) and Nate Morton (drums); guitarists David Barry, and Rafael Moreira who replaced Justin Derrico who returned to P!NK, and Eric Daniels shares keyboard duties with Mirkovich.
"Kara is a really cool singer," says Mirkovich. "She has a soulful rock sound and is gritty when she wants to be. But she is also able to dial it back and sound sweet and airy when she needs to. She is very versatile, has great pitch and can be loud as hell."
Mirkovich adds, "Kara is great to work with; always positive — even in long hours. She's quick to pick up parts, which is mandatory on a gig like 'The Voice,' where we learn hundreds of songs a season. She is fun to have around, and I consider her a permanent part of my team on 'The Voice' or whatever I do."
During the past four seasons, Britz has literally sung thousands of songs for hundreds of up-and-comers and stars including Michael Bublé, Smokey Robinson, and Peter Frampton.
One of her most memorable experiences on "The Voice" is when Kelly Clarkson walked onto stage during rehearsal — no make-up, hair undone, and warmly and genuinely greets everyone, and then sings her face off. She made sure her background vocalists could hear her because she really cares. She's a true professional, and her voice is so amazing that I started to cry while she was singing. I really identify with Kelly; she is also a cross-over artist, southern rock and country to organic pop and rock."
A midwestern girl with gospel, country and rock roots, Britz says Clarkson sparked her desire to be a lead vocalist. Moving six feet to center was never an aspiration growing up in family of five in which everyone sang and/or played an instrument.
"I just knew I wanted to sing — there was nothing else I wanted to do aside from learning musical therapy to help special needs children." She adds, "Briefly, I thought about becoming a lawyer 'cause I could argue the shit out of anything."
Stoking the flames during her Virginia-based youth were brother Corey Britz, who would become bass player for The Calling and BUSH, and childhood friend, Justin Derrico, who would become guitarist for The Calling, "The Voice" and P!NK and who recently recorded a solo album, "Boldly Going Nowhere," with Corey Britz producing.
"I remember once when she was just 13, her brother and I woke her up at 3 a.m.," says Derrico, "as we had been recording a song in the basement of their house. We hummed her the melody, gave her the words, and she sang the shit out of it in one take." He adds. "She has always been one of the most talented singers I know."
Kara Britz says, "I was surrounded by music. Corey and Justin had a band called Majahkamo recording at our house — actually, it was a big truck my dad brought in with a recording console inside parked in our driveway for a year and a half. Corey was also recording a band called Bummer. I would head to high school, where I knew the only thing I was good at was singing in choirs and jazz band — and playing drums. I also played in high school bands and played in lots of bars when I was underage."
Following college, Corey Britz and Derrico split to Los Angeles to pursue their musical dreams while Kara Britz finished high school. After weighing a four-year college degree in music therapy against finding a place for her voice, parents and daughter decided it was best for her to also head west. Eighteen, energized and filled with hope and ambition, Britz moved into a house rented by her older sister and fitness model, Kelley Britz Hanold.
Shortly thereafter, several studio doors opened for lead or background vocal tracks. "We use her every opportunity we can," says Mark Schulman, part-owner of West-Triad Studios and beatman for P!NK. "She has amazing versatility and a powerful voice — she can sing anything!"
By age 19, Britz had spent six months at Musician's Institute and had an audition that landed her a position in Lindsay Lohan's band. However, Lohan's band performed infrequently, and she began working as an assistant to Kara DioGuardi, an accomplished songwriter (P!NK, Christina Aguilera, Kelly Clarkson, Carrie Underwood, Rascal Flatts, Gwen Stefani, Celine Dion, The Band Perry and Cobra Starship), producer, and TV personality.
Through DioGuardi, Britz sang on albums for Hillary Duff and Selena Gomez. She also was the lead singer for 6 Figures, an original rock band featuring Corey and Derrico — "the two people who always have my back," says Britz. "We always look out for each other, introduce each other to other people in the industry — simply help each other with our musical goals and more."
Most notably, however, it was Mirkovich, and his widespread musical tentacles, that helped elevate Britz to the next stage of her career as a background vocalist for Cher. She sang with Lisa Fischer, who Britz says was "her mentor and a legendary, Grammy Award winning singer."
Next came legendary Joe Cocker and his 2010 "Hard Knocks" tour. The English rocker and blues singer paired harmoniously with Britz's ability to get down and gritty, and visually, as eye candy with a commanding stage presence. Interestingly, it wasn't touring with Cocker that made this one of the greatest moments in her career.
Britz humbly explains, "Here I am, a white, blonde soulful singer, which makes it hard (for me) to accept that it's not just my voice, but maybe a look thing. So, when I got the call from Joe to sing a duet part on "You Love Me Back" on his new album ("Fire It Up"), it was very, very special."
Britz continues to tour with Cocker around her schedule with "The Voice," now in her fourth season. She is also lead singer for Rockers Collective, a celebrity rock band.
Most recently, Britz was a background vocalist for an intensive production of a new singing game show set to air on NBC in June. As with "The Voice," the best contestant for "The Winner Is …" will be in the shadows while her voice fills center stage.
November 14th, 2012
Def Leppard Guitarist Solders Royal Metal Work
by Stephen Stern, executive editor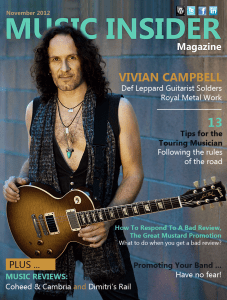 As bombs burst in Belfast nine miles away, an angry adolescent raged against the system. An atheist during the Catholic-Protestant separatist uprising, Vivian Campbell was trying to find his song. Armed with heavy-metal guitar defiance and lyrics of nonconformity that still hold true today, Campbell rebelled against school uniforms, classes, studies and a traditional or safe career path.
After numerous unsuccessful attempts to wake him up from his rock 'n' roll dreams, the Catholic school headmistress tossed the 16-year-old Campbell outside the schoolyard gate.
"She told me that the chances of making a career playing guitar were pretty slim." He adds, "that was especially true in Belfast in the '70s. But that's all l wanted to do. I was very anti-social around that age. I would play all night, wake up at 6 a.m. to do some studies and then fall asleep in class by 2 p.m."
The anger and the addiction started early in the town of Lisburn, located along the River Lagan in Northern Ireland.  Vivian Campbell was one of four children born to Vivian Campbell Sr. who had a hide-and-skin business, and Mary Campbell, a former nurse.
By age 9, Campbell was bending his first strings and listening intensely to whatever guitar riffs, especially solos, emanated from the family radio. "Whenever the Beatles 'Day tripper' came on, I would turn it way up," he says. "However, my mother hated the Beatles, she was more of a Simon & Garfunkel fan, but my father had the 'Band on the Run' (Paul McCartney) album."
Radio and recorded music were key in a place where few outside musicians ventured because of difficult access and the perceived or actual dangerousness of Belfast in the '70s, explains Campbell. "As a consequence, I didn't get to see many live acts growing up." He did get to see Irish legends Thin Lizzy, and blues-rock multi-instrumentalist Rory Gallagher, at Belfast's historic Ulster Hall.
Campbell infused a heavy dose of Thin Lizzy into his first professional band, Sweet Savage, and credits Gallagher for his blues-inspired style. "I was also influenced by Jeff Beck and Gary Moore, a thoroughly intense guitar player who never went through the motions." Campbell says, "That very angry or intense style is what attracted me to heavy metal — it was my outlet from school. I would listen to someone like Al Di Meola for about six weeks. But with no bending strings, I'd lose interest. I like guitarists who torture their instrument. Plus, heavy metal glorified the guitar."
But the glory days for metal bands and their blues-based guitar riffs, such as Deep Purple and Led Zeppelin, were on the decline with the advent of punk music. Coming to the rescue were Campbell and other members of Sweet Savage, which soldered together old metalwork with the quickened, punk-esque tempo and hard-edge sound. Sweet Savage is credited as one of the pioneers of the New Wave of British Heavy Metal.
Campbell captured this sound on 72987537 — the serial number he memorized from the Les Paul guitar — which took forever to afford, and seemingly longer for the wrong model to arrive from the USA Gibson factory. "I wanted a gold Les Paul Standard, put the deposit down, and went to the store weekly to check the status," Campbell says.
"After six months, the store clerk tells me the good news that they have a Les Paul, but it's the Deluxe model in wine red. I was fed up with waiting, and I thought that if the Deluxe model was good enough for Scott Gorham (Thin Lizzy guitarist), it was good enough for me. I put on some Humbuckers, sanded down the body to have that used and beat-up look like Rory Gallagher's guitars, buffed it up and painted it black."
Sweet Savage had a pretty good run, including touring around Ireland, opening for bands such as Thin Lizzy, Wishbone Ash and Motorhead, and influencing others, such as Metallica, which covered Sweet Savage's song "Killing Time."
"After knocking on every door and exhausting all the possibilities, I knew Sweet Savage was not going to make it," Campbell says. "If it were going to happen, it would have happened, so I actively looked for a gig. I was very determined to play guitar for a living … so I called everyone."
The phone burped back at 4 a.m., sometime in 1982, when a drunk Jimmy Bain found Vivian Campbell's name in the phonebook. The only hitch was that it was Campbell Sr.'s number rung up by Rainbow's rambling bass player. The elder Campbell quickly passed the phone to his son, who was invited to London to try out for a new band, Dio. The band was the namesake of legendary vocalist Ronnie James Dio, who was the front man for Ritchie Blackmore's band Rainbow, and Black Sabbath, to replace Ozzy Osbourne. Despite the rude awakening, Campbell Sr. covered the travel costs, and Campbell and his 72987537 took off.
"It was very surreal to be in that situation," he recalled. "There was Ronnie, Jimmy Bain and (drummer) Vinnie Appice in a rehearsal studio with rented equipment, jamming on Holy Diver. Ronnie's got this tape rolling, and tells me to keep playing while he rolls a joint. It's in the key of C, which is not the most guitar-friendly key. I play every guitar lick I know — my entire repertoire. Then I start playing it backward. He's still rolling the joint. I run out of my own material and start playing double-stop Chuck Berry licks."
With Campbell passing the test, Dio was complete, and with songs already in the hopper, an aggressive tour schedule quickly followed.
"Years later, Ronnie played the cassette tape back to me and said, 'When you started to play Chuck Berry, I knew you were my guy.' He also said that I showed up with just the right looking guitar — not some flashy guitar with the Floyd Rose (vibrato arm)." A few years later, neither the stop nor the Floydless guitar could prevent the inevitable
Campbell said his acrimonious departure in 1986 stemmed mostly from Ronnie's unfulfilled promises of equity ownership in the band after the third album. It was the difference between being a salaried musician and dividing up a pool of performance revenues and royalties in the millions.
In addition to broken promises, Campbell was tired of conforming musically. "I had become an audiophile at that time, with a greater interest in being a musician rather than just a guitarist. I also took singing lessons but Ronnie didn't want me to sing. He said, 'You don't see Ritchie Blackmore singing in Deep Purple.' Ronnie was much older, like a stepfather, always butting heads. He was old-school metal, everything Dio did was very serious; lyrically, we were still slaying dragons. Van Halen and other metal bands had much more of a sense of humor."
Almost comical by comparison, Campbell's next major stop was on a video set for Whitesnake. He said, "We hadn't played a single note together, but here we were making these rock videos. It was at a time when MTV was peaking, and we were an image-drawn band."
With the exception of Adrian Vandenberg, who had played on one song on the new album entitled "1987," none of the band members who performed on the album were in the videos. Campbell replaced John Sykes (formerly of Thin Lizzy), who was fired after writing and recording the album with Whitesnake founder and former Deep Purple front man David Coverdale.
"It was a closed shop, creatively," Campbell said. "We were told not to submit any songs. We were not a band. It was a revolving door of musicians — perhaps, 60, before and after me. Coverdale was the only constant."
Unable to conform to a band high on form and low on substance, Campbell left Whitesnake in less than a year, and produced Riverdogs' first demo. He also played on Lou Gramm's solo album, "Ready or Not." He then replaced the guitarist from Riverdogs, which released an album to critical acclaim but had lackluster support from their record label. After that, Campbell rejoined Lou Gramm with his new band, Shadow King, which had limited success, and Gramm eventually returned to Foreigner.
"I was done with bands," says Campbell. "I was tired of being hired and fired, and I wanted to focus on a solo record."
Campbell's solo quest was not only guided by deep introspection, but also the stark perception by others that he burned through bands as fast as his guitar riffs. However, once again, he was simply trying to find his own song.
Coincidentally, Joe Elliott, was trying to do the same for Def Leppard after guitarist Steve Clark had passed. The iconic front man and Campbell were old friends, having spent time in Dublin, where Elliott has lived since 1987.  They had mutual friends, played soccer pick-up games, and a shared an affinity for the New Wave of British Heavy Metal.
"My reputation for going through so many bands preceded me, but Joe believed in me. In retrospect, I wish Sweet Savage had broken through the barrier. It would have been great to be in one band my entire career, but I am also grateful for my musical education.
"Joe had to convince the other guys that I was the right guy for the band. That's why I think it took six months, literally, to join the band. We went to dinner together, the movies, played soccer and rehearsed. "
The courting was well worth it, says Campbell. "It was an exciting time. Heavy metal was still strong and grunge was yet to happen. Def Leppard's last album, 'Hysteria,' sold 15 million records. And it was the embodiment of everything I enjoyed musically –playing guitar and singing with such great songsmiths. They took meticulous care with every song."
After warming up in a small Dublin club, Campbell took the stage with Def Leppard in front of 72,000 people at Wembley Stadium for the Freddie Mercury Tribute Concert for Life on April 20, 1992. That first year, Campbell was a salaried player, but for the past 20 years, he has been a full-fledged partner in the band, which includes writing songs, including the first song release, "Work It Out," on Def Leppard's sixth album, "Slang" (1996). It was bittersweet for the guitarist cum musician, as it was the first Def Leppard album that did not achieve platinum success in the U.S. In fact, the album was a complete departure from the Def Leppard sound, notes Campbell, adding, "'Slang' was too much in left field; we compromised too much." Even the iconic logo was missing its signature design, It was also during a time when various band members were going through some personal challenges.
It was an enigma wrapped around an enigma. "We (Def Leppard) couldn't even get arrested if we tried at that time," Campbell recalls. "Radio stations wouldn't play us because the songs from the new album did not sound like Def Leppard. They also wouldn't play the old songs because we represented the '80s, and they didn't want to have our songs played next to Soundgarden or Pearl Jam."
He adds, "The record died on the vine, and it took a lot of wind out of our sails. The '90s were a tough time for us, but we never broke up, we never gave up. Def Leppard have always been head and shoulders above other heavy metal bands, with a vast catalogue filled with genuine hits."
The band's next record, "Euphoria," went gold in the U.S. It featured Campbell's song, "To Be Alive," from his solo band, Clock, and a return to their signature sound. Four more albums have been released since; "Mirrorball: Live and More" was the last in 2011. Considered one of the greatest bands in the history of rock 'n' roll, Def Leppard continues to fill venues worldwide. Campbell and other band members are writing songs for the next record.
Meanwhile, Campbell is planning to revive, temporarily, Dio for some tour dates next summer. Campbell is well aware that some Dio fans believe Ronnie James Dio would turn over in his grave on hearing the news of such a resurrection.
"We were all there at the start — the rehearsals, creating the sound, the records — and we have every right to play them," he says. "Performing the songs is much better than complacency. The band will respect the music and perform them with the energy and passion they deserve" — just as Gary Moore would have expected from his Irish brethren. Campbell will be joined by Bain, Appice, Claude Schnell (keyboards), singer Andrew Freeman from Hurricane and Lynch Mob.
Returning to the scene of the crime is also a validation, of sorts, of where it all began. While other parents might have sent their long-haired, non-conforming school drop-outs packing, Campbell Sr. believed in his son's rock 'n' roll dreams. He supported him and bought him the last-minute plane ticket to London for the Dio tryout, and then travelled to many gigs throughout Europe to watch him play. After the "Holy Diver" album went gold in the U.S., Campbell gave his father the framed gold album, which he hung proudly in his office.
Campbell has been trying to pay it forward ever since, for which Create Now  recently honored him for his outstanding contributions. The Create Now organization "serves vulnerable kids ages 2-25 who have been abused, neglected, abandoned, orphaned, are left homeless, runaways, teen parents, substance abusers, victims of domestic violence, children of prisoners, gang members or incarcerated."
An underdog in his own right, Campbell's climb to rock royalty serves as an inspiration not only to kids in Create Now, but elsewhere, including in Belfast, where bombs still burst.
Their song remains the same.
August 15th, 2012
Blind Melon frontman takes Apollo to the moon
by Stephen Stern, executive editor, Music Insider Magazine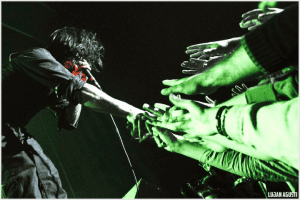 At 17, Travis T. Warren sold $250 of musical equipment to help pay for gas for a ride west in the Apollo. Compared to Amarillo, Los Angeles could have been the moon, which Warren has been shooting for musically ever since he arrived.
Rolling Stone listed Warren as one of the greatest replacement singers in the history of rock and roll, but to Blind Melon's front man, singing was an after-thought to the guitar. "Angus Young (AC/DC) inspired me to play guitar after I saw the video when I was 7," he recalled. "I got the school boy outfit and wanted a Gibson SG (guitar)."
The SG model would be a 25 percent improvement over the three-quarter-sized Fender Stratocaster his father, Terry, handed him at age 4. "My father taught me guitar, and I got my voice from my mother," said Warren, noting that while the family was musical, it wasn't necessarily harmonic.
"My childhood was not puppy dogs, ice cream and Leave It to Beaver, " he said. "My mom split early on, and my dad was always away on tour. Music is an escape for me — I don't think about daily issues when I play."
By age 9, Warren and his dad were more like band members than father and son, he said. "There were always a bunch of instruments lying around the house. He taught me guitar-playing styles like Leo Kottke, and John Fahey's finger picking. I played with my dad's band locally."
During these gigs, patrons told Warren that his mother, Tennessee, sounded nearly identical to Stevie Nicks. Blankly, he said, "I met my mom when I was 10 or 11 years old." And though Warren had no desire to sing, he acquired a record collection of Stevie Nicks and Fleetwood Mac to tether the relationship.
The same goes for his affinity for Lindsey Buckingham and interest in riffs versus lead guitar. But Warren's musical tastes are as widespread as the palette on which he paints musically — from the blues of Stevie Ray Vaughan to Alice In Chains and Blind Melon  to Pantera, Slayer and Tool, to name a few. However, it was numerous years later, while watching Tool front man Maynard James Keenan that Warren decided to move six feet to center.
Until then, Warren's intent was to merely keep the microphone warm until heavy metal 00-Metro found their front man. But Warren slowly grew into the part, with his piercing blue eyes, shoulder-length black hair and arms tatted in a colorful array of graphics and caricatures. Coupled with a Robert Plant-ish sound and his signature, epileptic-type intensity, Warren's stage presence is mesmerizing.
The transition wasn't easy. "Initially my voice was gone after an hour of rehearsal. I started to learn techniques to keep my voice alive for an entire gig." He adds, "I'm self-taught — no professional training."
Warren developed his vocal chops to a dedicated but limited heavy metal fan base. To supplement the financial void, he and long-time band member and friend Chad Land gigged around the central coast with a mellower set list. Other local artists sat in from time to time, and eventually it morphed into Rain Fur Rent.
"It was sort of a jam band with lead vocals," said Warren, who continued to infuse his preferred DADGAD sound — an alternative guitar tuning associated mostly with Celtic music and used extensively by Jimmy Page.
The band grew a rapid following on California's Central Coast, spreading in whichever direction they performed, said Warren. "We needed to move to L.A. as we reached our limits here (central coast). We got noticed everywhere we played, which led to showcases with (record) labels."
During this time, Warren was introduced to Blind Melon's Christopher Thorn (guitar) and Brad Smith (bass), at Wishbone Studios. They also attended a Rain Fur Rent performance and received an exemplification of his voice, which one Blind Melon member later defined as Warren's "Stradivarius" instrument.
This was a musical godsend to a dormant band that allegedly auditioned — to no avail  — 1,000 singers to replace the venerable front man Shannon Hoon, who died of an overdose in 1995.
Meanwhile, after six months of comments from label representatives and agents on how they needed to change to fit into the commercial box, including shortening lyrics and songs, coupled with overzealous partying, Rain Fur Rent imploded, Warren explained.
It was also manifest destiny for Blind Melon. After six years of disbandment, it seemed ironic that the band with its number one hit, No Rain, would find its voice again from Rain Fur Rent.
"Being a member of Blind Melon was a shock that didn't fully hit me until after my first tour ended," Warren explained. "I was a huge Shannon Hoon fan."
He added, "I'll never forget playing in front of 75,000 to 100,000 people in Spain. I was playing for an amazing audience and my idols: Jerry Cantrall (Alice in Chains), Steven Tyler (Aerosmith), Alice Cooper and Sex Pistols. The next day my girlfriend, Tara, and I drove to San Sebastian while listening to a radio show saying something in Spanish about Blind Melon's performance."
For Warren, the exhilaration was met with the sobering reality that he was not only a replacement singer, but also filling the shoes of a rock legend with a cult-like following.
"There were some diehard fans who didn't get it or want to get it," Warren said. "It's really hard not to be an original member, especially the lead singer. But I was not intimidated, even early on … I would get into a zone, get comfortable, and I made it my mission to change the naysayers and for everyone in the venue to leave saying, 'that was a great show.'"
Blind Melon found a modicum of success in their 2008 release, For My Friends, and members now perform infrequently, though the core fan base remains loyal. Each band member also focuses on new projects. This includes Warren, who has three projects running concurrently.  One is called The LookOut Kids, the other is a personal project with contributions from many talented friends, and the third is Warren as lead vocalist of an all-star rock band called Rockers Collective, featuring guitarists Vivian Campbell (Def Leppard) and Julian Coryell (Alanis Morissette); bassist Eva Gardner (P!NK); and drummer Mark Schulman (P!NK/Foreigner), among others.
The LookOut Kids features Warren on lead vocals and baritone guitar, and Sarah Scarlata from Rain Fur Rent on drums. "Sara and I were driving back from San Luis Obispo and talked about creating this band in March 2011. It was hard get others to commit, and I had already been experimenting on baritone, so we created a two-person band." He adds, "We called a promoter before reaching Santa Barbara, and we booked a gig three months out, without having written a song."
The LookOut Kids have performed several times to great reviews and will soon release Snitches Get Stitches.  "It's a heavier sound with lyrics about political issues Sarah and I feel strongly about. It all came about super easy — There were no expectations. After we moved to L.A. and got rejected, I started to forget why I was in music in the first place. We just wanted to have fun and feed the soul."
In the interim, Warren accepted an offer to create a record focusing on drug recovery. A poster boy for rehab and recovery (drug free for more than five years) Warren immediately connected with the project. "Initially, the focus was on struggles with addiction, but the label thought the scope was too limited." Warren said he was then given the green light to make the album he wanted.
"I had a catalogue of music I had written to pick from — plenty of material," said Warren. "But 75 percent of the record is new material. It was a spiritual process the way it came together so easy."
He added, "Beneath These Borrowed Skies is a tribute to a lot of music idols who are looking down on us. People tell me they hear a lot of my influences (idols) on the record, but it doesn't sound like any of them." The release date is scheduled for late August 2012. Contributing on the project are vocalists Aja Volman (vocals); Jena Kraus (vocals); Christopher Thorn and Chris Unck (guitars); Eli Wulfmeier (guitar and co-writer on four songs); Tony Beliveau (piano); Eva Gardner (bass); Jessy Greene (violin); Chris Columbus (drums); Femke Krone (percussion); Sara Scarlata (vibraphone); and Rob Schnapf (producer).
With Beneath These Borrowed Skies, Warren paints a highly melodic picture that is not only captivating, but also riveting in terms of lyrical content, instrumental fusion and varied tempos to compliment his Stradivarius voice.
As a songwriter and replacement singer, Warren takes particular pleasure and resolve to not sound or write songs like the idols or anyone else. Rather, he follows the wisdom of his favorite philosopher, Bill Hicks, whose sage advice for musicians is to "Play from your fucking heart."
Warren said, "Lots of bands get caught up in the moment and jump on the bandwagon, the way they sound or dress. They may get a hit or two, but they are parasite bands not genuine. Bands that make it through the test of time sing and play from the heart — that's what I try to do with my lyrics and singing; it has to come from a certain place."
For Warren, that place started in Amarillo, where it's said you can see the curvature of the earth through the Great Plains at sunrise and sundown. From L.A., it seems Warren has set his sights on the moon with Beneath These Borrowed Skies.
June 13th, 2012
We could accomplish anything in the world…that included outer space
By Stephen Stern, Executive Editor, Music Insider Magazine
Dr. Marcus McBroom got into the heads of many Hollywood celebrities. But it was his daughters' voices that he kept locked inside his head, like hidden treasures.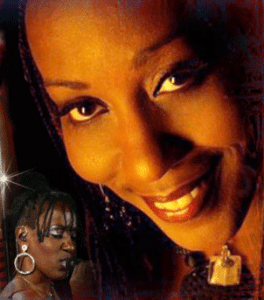 A psychologist with a love for the arts, Dr. McBroom and first wife Marie also founded The LeeMac School, which featured students such as Harry Belafonte, Sammy Davis, Jr. and Sydney Poitier. Among family friends were Dr. Martin Luther King, Frank Sinatra, and Charlie Parker.
"We were surrounded by extremely talented people growing up," recalled Lorelei. "This included sisters (from his first marriage) who were professional dancers. I wanted to be like them."
By age four, Lorelei McBroom was given the keys to a piano. By age seven, she began guitar and sang folk music. "As I progressed I was influenced by Barbara Streisand, Diana Ross and Billy Holiday who's music got me listening to jazz and blues," she said. "My sister, Durga and I would listen to musicals, learn to imitate them, and perform them for our parents."
By high school, Lorelei McBroom had Joni Mitchell playing in one ear and the Beatles, Led Zeppelin, The Who, Yes and Pink Floyd in the other. She noted, "From that moment on, I fell in love with rock and roll."
Encouraged and complimented by all within earshot, Lorelei still felt limited by her very strong alto voice. "My mother, Dr. Pearl McBroom, likened me to Cher, who I loved, and was a tremendous source of support. My voice teacher compared me to Streisand, and kept developing and expanding my range," she said.
"My father made it clear to all of us that we could accomplish anything in the world if we put our mind to it. That included outer space," she laughed. "My sister, Durga, sings on a Pink Floyd sound recording that the US government blasts into space."
It was also apropos that the band that brought the world The Dark Side of the Moon, also became Lorelei's first major gig. "It began in 1987 with a call from their film producer, who I had met earlier when working on my album," Lorelei recalled. "I also brought Durga and friend Roberta Freeman to Atlanta based on a Polaroid photo and a track from my record that Durga was backing me on. "
David Gilmour saw and heard enough – Lorelei McBroom then headed to Los Angeles to join the show, and the 1989 European Tour.
"I was flabbergasted by the brilliance of Dark Side of the Moon, so the opportunity to sing with them was unbelievable," Lorelei explained. "On the Momentary Lapse of Reason tour, the second half of the show was Dark Side of the Moon. The entire experience was incredible: David Gilmour is a lovely man, no ego trips in the band, and we even got to fly in Gilmour's private plane with him as our pilot once.  The concerts were exciting."
There was the concert in Moscow in which Lorelei said KGB removed excited fans that came towards the stage. "The band threatened to pull the plug unless the KGB stopped. They relented, and fans including the Polic e and Military men came to the stage, throwing their hats, and during the song, Money, they threw money on stage. We were all in tears."
In Venice, Italy the stage was set on a lit barge against the black sky, surrounded by people in gondolas. Video shows masses huddled on lands end, leering out windows, resting on rooftops. "I am told 350,000 people witnessed that show. It was surreal – visually and energy level, plus the firework show at the end," She said.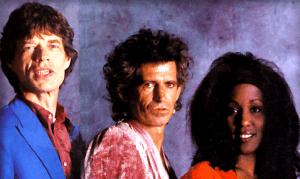 It took a few auditions, but Lorelei finally got some satisfaction when the Rolling Stones made her part of the 1990 tour. "I was still very inexperienced with touring and performing at that time. And Pink Floyd was so much more subdued. The Rolling Stones were very aggressive in terms of dancing, singing, and interacting with Mick (Jagger) on stage," said Lorelei, an African-American with Cosmo-like beauty, almond eyes, and long legs and a shapely figure she could move salaciously. "I was amazed by the respect the Stones got. I remember airports being opened for us after our concerts so we could take our private plane to the next city!"
"Mick played off me quite a bit."  This included the blockbuster hit, Brown Sugar, which included the lyrics, "Brown sugar, how come you taste so good, now? Brown sugar just like a young girl should now."
Lorelei said, "I never took anything they wrote personally, because I don't think it was meant in a bad way. It was all in good fun. The Rolling Stones have a tremendous reverence for blues and respect for Black American music. Keith (Richards) would play blues music in our back stage lounges all the time."
She added, "I did ask Mick who wrote the lyrics on Some Girls:  'White girls they're pretty funny. Sometimes they drive me mad. Black girls just wanna get fucked all night. I just don't have that much jam.' Mick told me Keith wrote those lyrics."
However, Keith Richards allegedly told reporter Jon Wilde, "Well they do. (Black girls like to fuck all night).  At least in my experience that's not all they want to do. But if you can go all night, then they will do. I mean, Mick wrote that line. And he was probably moaning because he couldn't keep up with some chick he was seeing. So, in a way, it's a reverse joke. (Sabotage Times, Dec 13, 2010).
After a long break from the road to start a family and raise her son, the next stop was with Rod Stewart.  Lorelei said, "We toured for four months with stops in UK, Dubai, Tel Aviv, Budapest and Moscow. It was soul music, Motown, Sam Cooke mixed with other hits. That was not my background. I was not brought up singing gospel at church. I loved the music, but I came from folk music. All of them (Pink Floyd, Rolling Stones, Rod Stewart) wanted the color in the band. They loved the blues and wanted that sound – it was something they revered. It was my job to provide that. I think most black women who sing rock and roll are expected to sing it with soul." She continued, "Rock has its roots in the blues, especially British rock."
Through Lorelei's roots, she met the challenge. "My father always told me,'You have a great voice. You can rival anyone out there. You are extremely special. Just keep working hard and looking your best,'" she recalled.  "And I did."As a result, one of Dr. McBroom's final memories of his daughter was larger than life: the Rolling Stones IMAX movie "Rolling Stones at The Max" was Larger Than Live based on the Steel Wheels/Urban Jungle Tour in 1990.
"Daddy was ecstatic; he loved seeing me on the big screen with Mick." Lorelei recalled. "We were rockin'. It was a very memorable experience for the both of us."
June 13th, 2012
Fender gives birth
by Stephen Stern, Executive Editor, Music Insider Magazine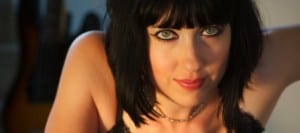 Eva Gardner was born with a silver spoon shaped as a bass guitar. Not out of privilege, but by right of musical passage. By second grade, the pig-tailed, green-eyed kid proclaimed to family and friends that the bass was her toy of choice.
To some adults, such mutterings are reciprocated with a wink and a smile, followed by musings of "oh how cute she is …" But it was music to the ears of Andy Johns, producer and engineer for Led Zeppelin, The Rolling Stones, Rod Stewart and Eric Clapton; and John Entwistle, bass guitarist for The Who; and numerous other rock royalty family friends.
But not to Kim Gardner — Eva's British rocker father.  A highly regarded bass player with The Creation, and The Birds (which included Ronnie Wood of The Faces and Rolling Stones), Kim required evidence that his daughter's proclamation was not a passing fancy.
This continued through age 11, when Eva's request to bring a bass guitar to London was denied. "Dad said 'no.'" Eva added, "I did not show him that I was serious enough to have him haul it over to England along with a family of five and suitcases."
Meanwhile, Eva dabbled dispassionately on the piano, biding time. And then it happened: "Age 12," Eva explained, "Andy Johns hands me a bass and a Pignose amp, he turns up the volume on Van Halen's live recording of The Kinks' classic, "You Really Got Me" and proclaims, 'Now this is a solid bass line.'"
Soon thereafter, Eva joined bands, polished her bass chops, and continued to learn and study from family friends and others who showed up regularly at her parents' famous Los Angeles-based British pub, the Cat 'N Fiddle. "Dad played every Sunday with the jazz band, plus we had other live music nights," Eva recalled. "We are now celebrating our 30th year anniversary." (www.thecatandfiddle.com).
Her father took notice of his daughter's intense passion for music in general and dedication to the bass in particular. "When he saw just how serious I was, he helped me haul in equipment to gigs, plugged in amps, and helped me tune my bass – he became my personal roadie," Eva said, smiling.
Her reputation quickly growing, Eva turned down tour offers to finish her degree in Ethnomusicology from UCLA. "I wanted to finish what I started. Plus the program reached far beyond Western music – I was exposed to music from all over the world—I learned other ways of seeing music as a celebration of love and life," she said.
During this time, Eva received a call requesting that she travel to Long Beach to meet a group of musicians who wanted to form a new band and needed a bass player. There was instant harmony, she explained. "We sat around the living room discussing band names. They settled on The Mars Volta."
The band caught fire, in part, because of the extensive following of a few band members that they had from their former group. Eva said, "I played on the demos and first EP, and soon started a US tour playing clubs. I felt free because I was finally able to commit to a project full time, and I really wanted to tour."
Eva added, "The music was also very exciting because I was free to play however I wanted to play. I had learned all the rules and now I could break them and play whatever came to mind."
She added, "In retrospect, my dad really made me work for it, and it made me better because of his approach. And maybe he tried to protect me because of how hard it can be to be a musician."
As she prepared for The Mars Volta US tour, notes of dissonance and discord struck. Her father was dying of cancer, and time was of the essence.  "It was bittersweet; I always just wanted to be on the road, but here's my father dying of cancer," Eva said. After a long pause, she exclaimed, "he told me that if I didn't go, all I would do is just sit around and cry.  He told me I should go out on tour and kick ass…and do what he taught me to do."
By end of first week of tour, while in Athens, GA., her father died.
At that moment the torch was passed. Eva noted she was fulfilling her dream but not the way she expected.  "I privately dedicated every night's performance to my father." She continued. "I found myself performing easily in a zone, and in his presence. My father inspired me…and still does."
This made her next stop with famed British artist Tim Burgess of the Charlatans, particularly memorable: Opening for The Rolling Stones at Wembley Arena in London.
"It was my first arena venue," she recalled.  "The stage was massive – we were spread so far apart. I also had to adjust to the big sound." And then she had to stay focused when seeing family friend Ronnie Wood at sound check, and Mick Jagger, from side stage, while she performed that night. "Ronnie said, 'nice gig,' referring subtly to the circle of events from father to daughter, and the fact my father had also opened for The Rolling Stones with The Creation in the 1960s."
Next stop was Australia with a band she remembers listening to growing up, Veruca Salt. "I went to see them when I was 13; I knew their songs, sang along with them, already rocking out," Eva queried, "If I only knew I was going to play with them one day. It was also my first singing gig. Each one of these experiences prepped me for the next one."
This included a phone call that led to a last minute ticket to Dublin, Ireland with instructions to learn an hour and half song list before she arrived. "The next day I was rehearsing with P!NK's band for the following night's show at Malahide Castle, only to find that some of the live arrangements were different from what I had learned!" Eva exalted, "I met Alecia (P!NK) for the first time during sound check. She said, 'Welcome to the family.'"
"There was an amazing moment during my first show with P!NK that overwhelmed me. I was side stage watching her sing the acoustic version of 'Dear Mr. President.'" Eva added, "I'm sitting there, watching thousands of people sing along with her to such a controversial subject. I realized how she really affects people…they were really moved. I then realized I was part of something special and important."
In between world tours with P!NK, Eva has also sat in with Rihanna during the NBA all-star game, Moby during a recent appearance on The Tonight Show with Jay Leno, as well as Butch Walker on The Late Show with David Letterman. Eva is also a core member of Rockers Collective. (www.rockerscollective.com). She also teamed up last year with multi-instrumentalist and songwriter Chris Unck (Butch Walker), and Stewart Heyduk (Feist), to create Telstar.  One of the hottest groups on the LA scene, Telstar emanates a British Invasion flavor with clever lyrics and addicting hooks. (www.telstarmusic.com).
Recently, Fender gave birth to an instrument shaped as a signature series custom Precision Eva Gardner bass guitar. Eva's tattoo of a ship can be found near the bridge, and her dad's fingerprints on the specs — not out of privilege, but by rite of passage.
May 8th, 2012
Fueled by an undeniable spirit
by Stephen Stern, executive editor, Music Insider Magazine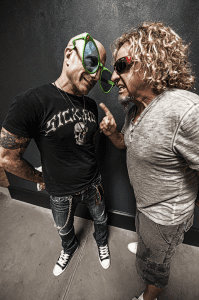 From the outside he resembles a Pontiac GTO convertible – a vintage American muscle car, with his strong features, bald noggin and power strokes. But underneath the hood is a Formula One machine, blue-printed with a mix of formal, classical instruction and self-taught chutzpah.
"Man as a machine" is the perfect metaphor for Drum-maven Kenny Aronoff, who explained that, "Hard work is the vehicle that gets us somewhere, from point A to B, A to C, and A to D."
"The passion that fuels hard work is your gasoline. Add ongoing education to continually improve yourself until you die," and you have Kenny's drive. Supplement this with a super-natural sensitivity for feel, awareness and connection – a special spirit and you may also find the road to sonic success and bliss, he noted.
Along the way there have been some monumental moments, but for the most part "its been a blur," explained Kenny, who has played withJon Bon Jovi, Elton John, Bob Dylan, Alanis Morrisette, The Rolling Stones, John Mellencamp, Lynyrd Skynyrd, Willie Nelson, Waylon Jennings, Avril Lavigne, Rockers Collective and a dozen other A-listers.
This includes his current tour with super group Chickenfoot, featuring Sammy Hagar, Joe Satriani and Michael Anthony. Kenny is filling the throne left by Chad Smith of Red Hot Chili Peppers fame. (Chickenfoot's Different Devil 2012 tour dates: http://www.chickenfoot.us/tour).
These seminal moments include several years in the early '80s as a member of John Cougar's band, which later became John Mellencamp.  Touring with the top album, American Fool, which included two number one hits, Hurt So Good and Jack and Diane, was "life-changing." Kenny added, "We were the shit! We sold out the biggest venues in 3 hours – everywhere!"  It was also at this time Rolling Stone named Kenny drummer of the year.  (Kenny has also been named Modern Drummers #1 pop rock drummer and #1 studio drummer for five consecutive years). He added, "There were also some very special moments with The Smashing Pumpkins. We were the biggest alternative band at the time."
Recording with the Buddy Rich Big Band was a drummer's dream. As was performing for President Obama's Inauguration, with 27 amazing artists, including Stevie Wonder, Mary J. Blige, Will.I.Am, Sheryl Crow, Chris Cornell, Beyonce, Willie Nelson ,in front of a worldwide audience." Kenny added, "There is so much beyond drumming; it's like serving as a second musical director and artist."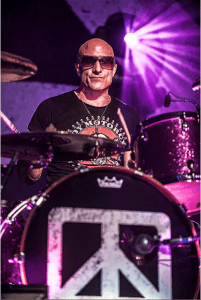 Not bad for a self-taught banger. Kenny credits his parents for providing a house filled with music. Plus a backyard musical playground known as Tanglewood in Stockbridge, MA, which fed him a constant diet of the classics by the Boston Symphony Orchestra, Summer stock, big dance, and marching band drum lines, which pulsated his spirit. But it was also the Beatles' film, A Hard Day's Night in fifth grade that intoxicated his musical soul. "Within a week, I bought a stand-up snare drum, borrowed money for a cymbal, formed a band and played the Beatles and everything else that was on the radio," he said.
Despite banging his way through his adolescence, Kenny felt a musical void that could only be filled by classical instruction. "I wanted to study with members of the Boston Pops Symphony," he explained. "I went for an audition and was asked, 'what have you prepared? A timpani piece? What do you play?  'I said drums. 'Let's hear it.' He stopped me after 30 seconds, and put me on a practice pad. I decided to study music, and spent my first year at the University of Massachusetts catching up for not having had four years of high school experience in marching bands and orchestra."
Kenny then applied for the prestigious Aspen Music Festival, facilitated by the Juilliard School of Music. It was a long-shot, Kenny thought, but nonetheless he decided to drive back to campus after semester ended to check his mail one last time. His golden ticket awaited and without hesitation Kenny told his parents he was driving to Colorado, with only a few shekels in his pocket to support his grand aspirations. Providence ensued, and Kenny was introduced to Indiana University Professor George Gaber. "I realized quickly his genius," Kenny said. "In two weeks I knew I was going to study with this guy at Indiana University." And he did, performing timpani, marimba concertos, orchestra solos, working with great conductors, and honing in on his reading and writing chops as part of his formal training.
After graduating from Indiana University in 1976, Kenny said he was offered jobs as a timpanist for prestigious orchestras. But passion trumped security, and Kenny returned to his first love, the drums, and the prospects of $75 nightly gigs.
Hard work, fueled by passion, now formally educated, and bestowed with an undeniable spirit, Kenny returned to Indiana and auditioned for John Cougar Mellencamp.
Since then, he has been cruising with the top down, his radio hits blaring, R.O.C.K. in The USA and everywhere else the road takes him.